We are fighters. Advocates.
WE ARE
Storytellers. Legal Experts.
PUBLIC
Protectors of civil and human rights.
DEFENDERS
We hold the powerful accountable.
copy
We stand in defense of a criminal justice system that is fair and just. 
visualizations
The Problem
America has 4.5% of the world's population, but 25% of all those incarcerated. Over 7 million Americans are on probation or parole. 70 million of us have criminal records. 95% of convictions are secured via plea bargaining. America locks up the poor and people of color at far higher rates than white people.
Today, there is unprecedented public interest and support for criminal justice reform, but a lack of direction on how to achieve it. Public defenders see and understand how policies, practices and laws interact to drive mass incarceration. We have some ideas about how to fix the system.

stats
INCARCERATION IN AMERICA
2.3M
Incarcerated
7.3M
Under State Supervision
70M
Criminal Records
95%
Guilty pleas
As the attorneys, social workers, investigators and other staff representing the vast majority of people processed through the criminal justice machine, we know what is going wrong. We see what these numbers really mean. We are the witnesses, the advocates, the attorneys dedicating to fighting injustice for individuals and for everyone. 
copy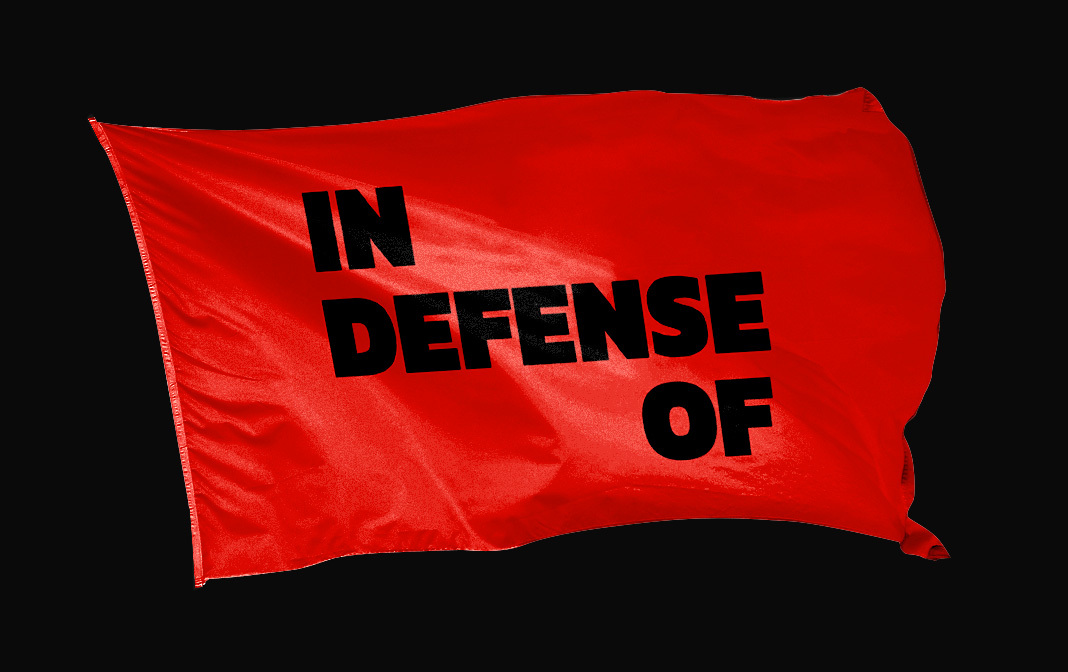 IN DEFENSE OF is a storytelling and action platform curated and powered by public defenders and our clients to end mass incarceration.
visualizations
The Vision
There is unprecedented public interest and support for ending mass incarceration, but a lack of consensus on how to do so. Public defenders bear witness, but also understand the way in which legal statutes, laws, policies and court culture have caused the ever-increasing use of incarceration and criminalization to marginalize and traumatize millions of people who do not deserve it.

The criminal legal system is fixable only if understood as the sum of its interrelated parts, some broken and some intentionally designed to achieve exactly what we now have.
Awareness
Real life stories
Public defender expertise
Untangling complex issues

Action
Local & targeted movements
Curated campaigns
Informed by first hand experience

Change
Change laws
Demand accountability
End mass incarceration

copy
Incubated by
massive
Brooklyn
Defender Services
BDS is one of the nation's largest public defender offices, representing nearly forty thousand clients every year in Brooklyn.
While zealously defending our clients in court in our core areas of criminal defense, family law, and immigration, out of court, our staff of talented and dedicated attorneys, social workers, investigators and support staff provides integrated services to our clients to limit the housing, employment and education consequences they face following involvement with the criminal justice system. 
Our legal practice also includes specialized attorneys who represent particularly vulnerable groups of clients, such as adolescents, victims of trafficking, people with mental illness, and veterans. Our specialized social workers and jail services professionals work in the jails helping our clients cope with the experience of incarceration.

visualizations
Got a story to share?
In Defense Of is a storytelling and action platform created by public defenders to end mass incarceration. Whether you're a fellow public defender or other frontline practitioner, or you're personally touched by the system, we want your stories.
Share your story with us